Introducing a network of power, innovation and smart cities.
As the leading European micro-mobility provider, TIER has constantly pushed the boundaries in reshaping our cities to offer more than just the ease and convenience of e-mobility. As a company, we strive to continuously pioneer the development of urban transport, and to innovate new technologies to move our cities forward.
We are proud and excited to introduce the TIER Energy Network; a new development that will change mobility for good. The TIER Energy Network is a revolutionary idea that links citizens and stores to create an electrified city. Users can now easily swap depleted vehicle batteries for charged ones at a network of charging stations hosted by local businesses such as cafes and convenience stores.
By integrating this new kind of swappable battery technology, we are building a Europe-wide charging network that allows users and partners to play an active role in adopting climate-neutral travel and building better cities.
We plan to roll-out this technology across all of our operations by the end of 2021, and It is our vision that in time our charging network will not just service e-scooters, but other vehicles too.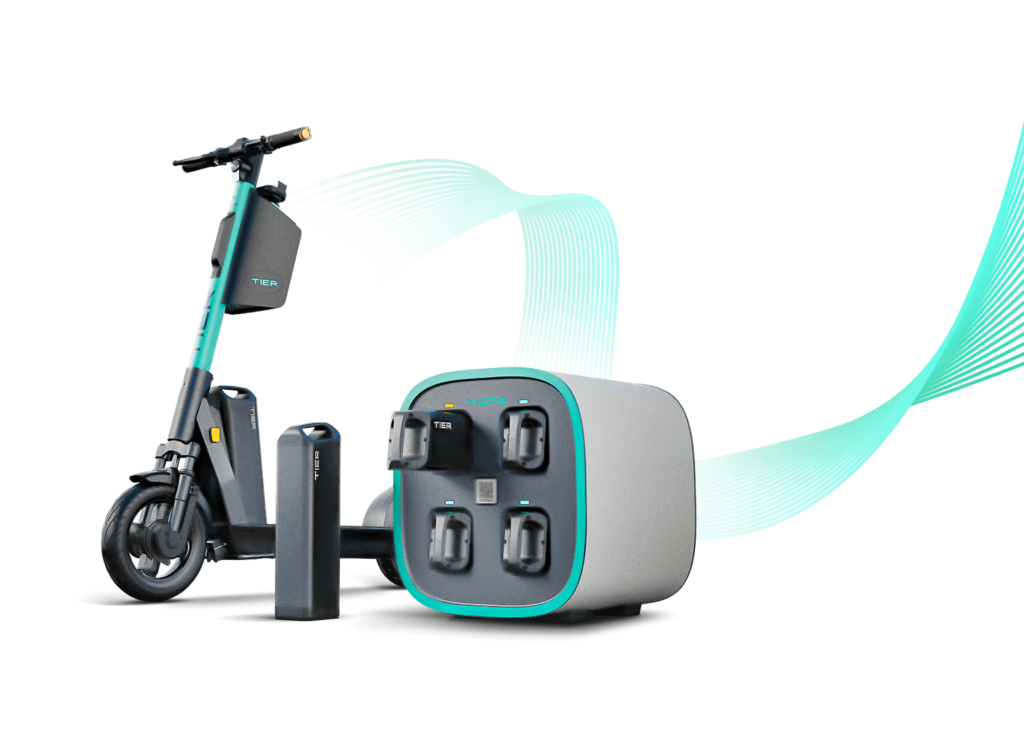 BEHOLD THE TIER FOUR E-SCOOTER
It all starts with our 4th generation e-scooter. A technologically superior vehicle designed to dramatically improve safety and convenience. It is equipped with a Smartbox, which houses a foldable helmet, and indicator lights on the steering bar and back fender that signal the rider's direction to other road users. To further increase safety, we have introduced the largest front wheel in the industry, a wider footplate, dual suspension, a double kick-stand and dual drum brakes for stable riding on uneven surfaces, and difficult conditions.
Plus, the technology that changes everything.
OUR REVOLUTIONARY USER-SWAPPABLE BATTERY AND PowerBOX
The e-scooter contains a revolutionary user-swappable battery that can be exchanged (if they run low on charge) at charging stations (PowerBox) positioned around the city. The process is quick and easy. Users will be rewarded with a free unlock and 15 minutes ride every time they swap an old battery for a charged one at a SwapSpot. E-scooters with swappable batteries will be highlighted with a power icon on the map in the TIER app.
Our PowerBoxes will be placed inside convenience stores, cafés and other partner locations which are called SwapSpots. The charging stations are fully-automated and require no store staff oversight while plug-and-play from the mains power requires no installation. It is free of charge for partners, with TIER also paying for the electricity it uses. Hosting a PowerBox enables partners to attract new customer visits and increase sales, while reducing their carbon footprint of customer travel, helping them reach their own climate goals.
Our Energy Network and new TIER FOUR e-scooters are currently live in Tampere, Finland. A 1000-strong fleet supported by a network of 50 charging stations across the city are giving riders free rides and bringing more customers into stores.
OUR ENERGY NETWORK – THE VISION REALISED
The new e-scooter model will be set up across all European countries in which TIER operates, allowing millions of riders to earn free rides and thousands of SwapSpots to gain more customers. This Pan-European charging network will change mobility tomorrow, forever, for good. The model will also contribute to more sustainable cities, benefiting society and further reducing our effects on the environment.
Swap batteries to get free rides. The power is in your hands.
Swap batteries to get free rides. The power is in your hands.