TIER tackles illegal e-scooter use by letting private owners trade in vehicles for ride credit
30 December 2020 – TIER is offering private e-scooter owners the chance to trade in their vehicles to be recycled or repurposed, in exchange for ride credit with the company. Europe's largest operator has launched the scheme to discourage the illegal use of private e-scooters on UK roads, giving private owners the opportunity to enjoy riding e-scooters safely without breaking the law and risking hefty fines.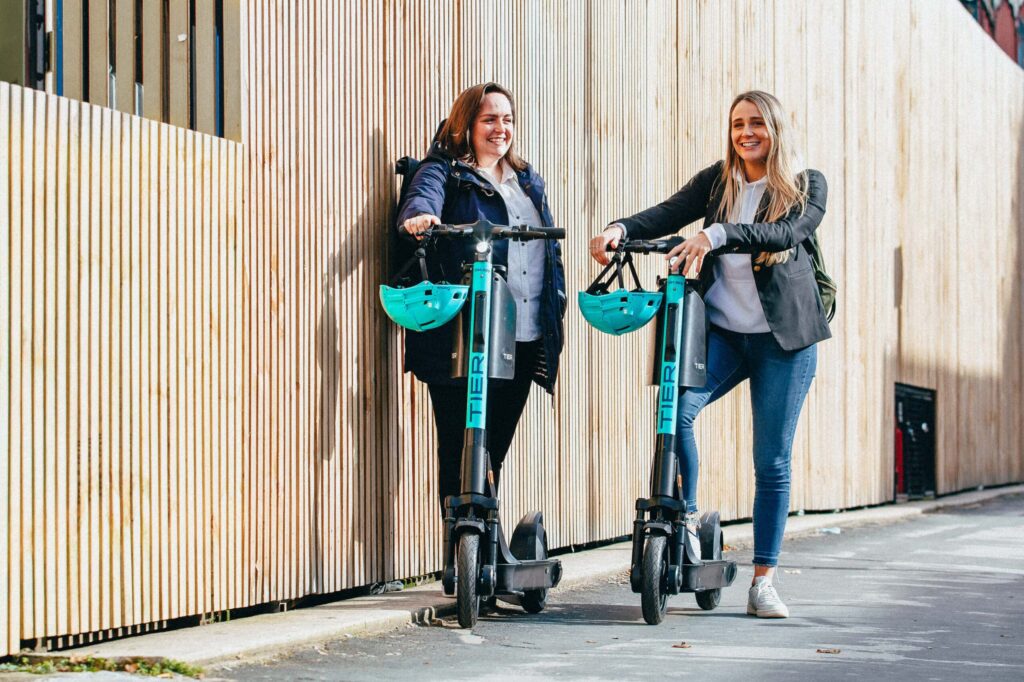 The scheme will initially be rolled out at the beginning of next year in York, where TIER is running a year-long e-scooter trial. TIER will offer to collect e-scooters from private owners and take them away to be recycled with a local recycling partner or repurposed through a charity or social enterprise in another TIER territory where private use is legal, depending on the condition of the vehicle. In exchange, they will be given TIER e-scooter ride credit equal to their vehicle's value, up to £150, allowing them to use the company's rental e-scooters dotted around the city.
E-scooters have become an increasingly popular mode of transport and since rental e-scooters were legalised in the UK in 2020, a number of cities have launched rental scheme trials. However it is illegal to use personal e-scooters on public roads, in cycle lanes and on the pavement and the police can issue riders with a £300 fine and six points on their driving licence, while also having the right to confiscate the vehicle.
TIER hopes its new exchange scheme can help private e-scooter owners who bought the vehicles to use on public roads, before realising that it was illegal to do so. Owners will be asked to show proof of purchase when exchanging their vehicle, and will need to pass TIER's AA Ride Safe School, which now includes the industry's first e-scooter theory test.
Fred Jones, TIER's UK General Manager, said: "Many people will have bought or received e-scooters for Christmas but not fully realised that it is illegal to ride them on public roads. Unsurprisingly a huge amount of these vehicles now sit unused in cupboards, sheds and garages, as owners wishing to abide by the law have few places to go and enjoy them.
"We hope that this scheme will give private owners the chance to enjoy riding and finally get their money's worth. It also means that they'll get to ride more robust e-scooters with cutting-edge features such as integrated helmets, indicator lights and charging phone holders, making the experience more enjoyable and better protecting pedestrians."
David Davies, Executive Director of The Parliamentary Advisory Council for Transport Safety (PACTS), said: "PACTS welcomes this initiative from TIER. Private use of e-scooters on the roads in the UK is illegal. There are no safety standards for private e-scooters and PACTS is concerned for the safety of riders and pedestrians. Rental scooters are generally of a higher safety standard and schemes have to comply with legislation and local contract conditions. This offer by TIER may be a way forward."
Councillor Paula Widdowson, Executive Member for Environment and Climate Change, City of York Council, commented: "TIER are delivering a safe, convenient and fun way to move around our city. The e-scooters are proving very popular and environmentally friendly. This new scheme of trading in your unregulated scooter for free riding on robust, legal-to-use scooters feels like a win-win for everyone. The private scooters get repurposed and the owners get to enjoy 'free' legal fun rides around the city".
TIER recently launched a UK & Ireland Safety Board to help raise the bar for safety standards across the sector. The operator is renowned for its industry leading safety features, which include a built-in helmet and indicator lights. It also recently committed to introducing a sound alert to its e-scooters to help protect vulnerable pedestrians, and is working with charity for the blind Thomas Pocklington Trust to design the feature.
TIER Mobility is Europe's leading provider of micro-mobility with a mission to change mobility for good.
The company is a driving force behind the change in the transport sector, which aims to significantly reduce car traffic in cities by providing people with a wide range of electric vehicles.
As part of its commitment to sustainability, the company has adopted the United Nations' Sustainable Development Goals (SDGs) as a guiding framework and has set a clear agenda for reducing and offsetting emissions. As a result of these measures, TIER Mobility has been a climate-neutral company since January 2020.
TIER Mobility operates in 85+ cities in 10 countries. The company is headquartered in Berlin and employs about 900 people. Founders of the company are Lawrence Leuschner, Matthias Laug. and Julian Blessin.
The company's investors are SoftBank Vision Fund 2, Mubadala Investment Company's financial investment arm, Mubadala Capital, Northzone, Goodwater Capital, White Star Capital, Novator, RTP Global, Speedinvest and many more. In addition, there are selected business angels and individual investors like Formula 1 World Champion Nico Rosberg.
For more information about TIER Mobility, please visit: about.tier.app. You can find more pictures here.